Simply put, resolutions are personal goals. They symbolize a fresh start, and that is why we all make resolutions at the beginning of our annual fresh start on January 1st. At Resolution Sports, we take the same approach to your organizational goals. So whether you feel like you are stuck with a need for a fresh start or if you just want an edge to help you reach your current goals, Resolution Sports is here to make it happen for you.
COMPANY BACKGROUND
Resolution Sports is a sports communication firm that works directly with individuals and organizations to help them reach the type of public notoriety they desire. With an extensive background in public relations, marketing, video production, social media, written communications and digital strategy, we will make it our mission to help you achieve the goals you have set for yourself or your organization. Resolution Sports was founded in 2008, but the company brings over 13 years of industry experience to the table.
Our digital media strategies and outside the box mentality has been praised across the media landscape. Among the places we have been featured include the International Journal of Sport Communication and as a case study by industry leading strategist David Meerman Scott in how we helped professional women's soccer team Sky Blue FC announce the return of international fan favorite Tasha Kai to its team (below).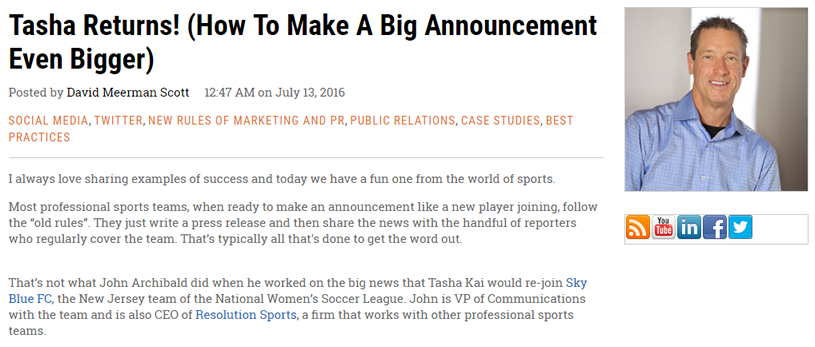 BUT WAIT, THERE'S MORE!
Sports is not all we do! No matter what industry in which your company is involved, our universally effective digital strategies can be applied to your business. Contact us today to open the discussion of how we can work together.